RED: MASKS REQUIRED
Grant County is RED Masks are Required
DeSHAWN WERT RECEIVES OUTSTANDING EDUCATOR AWARD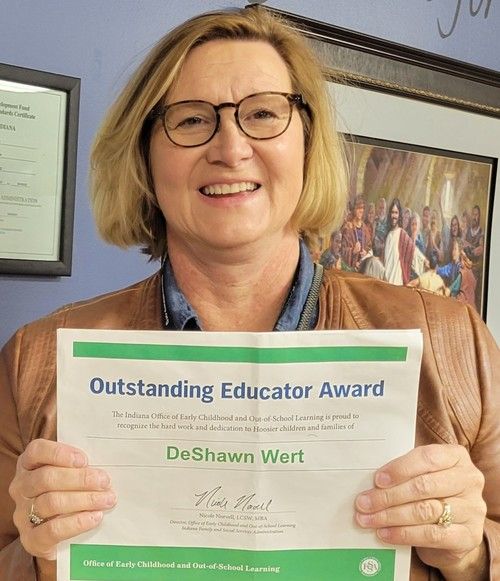 MARION, Ind. – Sweetser resident and local educator DeShawn Wert recently received an Outstanding Educator Award from the Office of Indiana Early Childhood and Out-of-School Learning.
The award acknowledges the hard work and dedication of early childhood educators and out-of-school professionals in Indiana.
Wert was one of 24 award recipients named from more than 180 nominations and will receive $1,000 toward the purchase of materials for her classroom.
Currently the director of the Mt. Olive Preschool in Marion, Wert attended Purdue University where she earned her bachelor's degree in Early Childhood Education and a master's in Curriculum Design. She has more than 20 years of experience in Title I and Head Start classrooms and served several years as an elementary school principal before coming to Mt. Olive.

Caption: DeShawn Wert, director of Mt. Olive Preschool in Marion receives an Outstanding Educator award certificate and $1,000 toward the purchase of materials for her classroom from the Indiana Office of Early Childhood and Out-of-School Learning. The award acknowledges the hard work and dedication of early childhood educators and out-of-school professionals in Indiana.
Preschool has received grant money that allows us to add a position to the preschool that will support children and staff with social emotional skills. The position is set up as a lead teacher who will be trained with an identified social emotional curriculum and work in individual and small group activities to enrich pro-social behavior and help to extinguish behaviors that are not serving the children. Hourly rates will be determined on experience.
We will need someone who is willing to be trained and is available to support children from 8:30-4:00 Monday- Thursday.

Requirements include enjoying watching young children learn and grow, have experience with young children in group settings, be trained in social-emotional curriculum (or be willing to) and can collaborate and work well with staff and families. More information on WWW.mtoliveumc.com/preschool
Please feel out the application Microsoft Word - Employment application (snappages.site) and send your resume to deshawnw@mtoliveumc.com
Thanks for your consideration,
Please check your email for more details on information for the position.
DeShawn Wert Preschool Director


Calendar & week at a glance
Ministry Pages & Programs

Small Groups & current studies
Worship Bulletin & Sunday Schedule
Congregational Care & celebration dates
Worship Live & media library
MISSIONS NEEDS
Grant County Mission :
UPDATE: WE didn't fill the truck =( but we did fill my hatchback
AND we received enough financial donations I'd say to push us over the top and come close to a pick up truck. Great job church.
Way to be a blessing! Some folks in Grant county are dressed a bit safer for the weather because of you!
White's Foster Care Tree
UPDATE: Every kid on the tree was covered and over 20 gifts cards went to support Josiah Whites (formally known as Whites) ministries.
https://josiahwhites.org/
THE WELCOME NETWORK (Hammond, IN)
A Christian Denomination organization
They work with Afghan and other Refugees
UPDATE: We raised $1665.40
And sent several items of clothing to help the Afghan Refugees face their first Indiana winter.
Even our preschool sent items to bless them.
As you have done for the most vulnerable and needy you have done for Christ!
http://www.thewelcomenet.org/
Calendar & week at a glance
SUNDAY 1/24/22
8:30a Adult Bible Study
9:30a Worship Service
10:30a Mt. Olive Kids
10:30a Mt. Olive Youth
10:30a Adult Bible Study
5:00p Night in Bethlehem

MONDAY 1/25
Cub Scouts Pack 3442
6:30 – 7:30pm
UMW-United Methodist Women's Meeting
6:30 – 7:30pm
Admin Meeting 7pm

TUESDAY 1/26
6a Morning Devotions
12:45pm Staff Meeting
6:30p Brianna's Hope
Boy Scouts Troop 433
6:00 – 8:00pm
WEDNESDAY 1/27
6a Morning Devotions
7p Men's Group

THURSDAY 1/28
Office Closed
6a Morning Devotions

FRIDAY 1/29
Office Closed

SATURDAY 1/30

COMING UP!




What do you see in this picture? the plants in the foreground? The endless ocean or where the sky meets the ocean? I see Gods creations how everything fits together. That is how God made us, we are all beautiful in everyway. We are to shine Gods light in everything we do and everywhere we go, let us be Gods perfect creation. "I love God with all my heart and all my soul"
UMW has an on going Fundraiser for Terri Lynn Nuts, You can
click the link to order. There will not be any Terri Lynn Products this year at the Bazaar. All orders proceeds will go to UMW.
Congregational Care & celebration dates
Find Your copy at church this week
Located outside the main Sanctuary Doors
And outside Door 6
Birthday's and Anniversaries
1st Skip Lebo
1st Eddie Overmyer
2nd Howard Mundt
3rd Terry Hawk
7th Brooke Shorten
8th Kai Hawk
11th D.J Lewis
11th Joyce Keown
14th DeShawn Wert








15th Alma Caldwell
15th Hugh Burnett
17th Natalie Grizzle
20th Angela Cates
21st Bill Barcomb
21st Mark Johnson
25th Myron Robinson
26th Joyce Adbon
26th Eli Harris
27th Michelle Harris


14th Fred & Joyce Keown
24th Mark & Jill Johnson
26th Heath & Gem McKinney
WEEK OF 1/16/2022Teresa Cates
Thank you for prayers for Penelope my niece's 4 1/2 year old. She is home now. Preliminary Results from bone marrow biopsy was probably not leukemia. They will get final results in a few days. Thanks again!
Gary Nehouse
is in the hosptal with COVID please keep him in prayer for quick recovery
Dean Amburgey
had a heart attack at some point, Please keep him and Barb in prayer.
Many familys in preschool
are sick and one in hospital
Marsha and Don Lewis r
ecovering from COVID
Karen Smith
PRAISE Great grandson is turning 2yrs. old and walking. They were told by doctors he would never walk
Libby Highleys
family for her passing
Gina Scott
Kateri and Hugh's daughter-in-laws mother found out at Christmas she has breast cancer will be going through a masectomy and possible radiation
WEEK OF 1/9/2022Libby Highley
passed away on 1/10/2022 please keep family in prayer
Norma Landers
Thank you for your many prayers for Norma and her Great Grandson Knox and her Great Granddaughter Piper They have had their surgeries and are doing well. I have another test or two.
Randy Hoiser
Tumor is shrinking Still has a ways to go promising. Please keep them in prayer
Sandy Duncan
In recovery for COVID
Jodi Rice
Is dealing with COVID and needs our prayers for recovery
Becky Rees
had Hip replacement surgery on Monday 1/10
Troy Cass
dad Fred is having Lung Surgery
Harris and Lewis
family's re going through COVID they need prayers for recovery
Craig Jackson
A family in the Oak Hill area passed away in his sleep prayers for family.
Susan Perry
has fallen again and is in MGH and having a MRI
Praise
I thank God for my vaccine that I had hardly any systems of Covid Praise the Lord
WEEK OF 1/2/2022Norma Landers
I do not have Cancer but I have another Lung problem. I will see Dr J Patel on Tuesday. Thank you For all your wonderful Prayers.
Gary & Becci Odle
grandson Zander had more ear surgery done on Thursday
Doug Barton
has a neighbor and a friend who need prayers
Sandy Duncan
is in hospital and should be going to rehab and recovering from Covid
Pastor Rob's
Aunt Pam
Jamie Westgate
waiting on results from Thyroid Biopsy
Sue House
waiting on results
Please keep those of us who are dealing with Covid in your prayers
WEEK OF 12/26/2021Charles Kelley
is asking for prayer for his daughter Beth's hushband who found out he has stage 4 cancer
WEEK OF 12/26/2021Donna Kingseed
is doing well after her
David
Mom and Dad very ill
Susan Perry
Fell and fractured her L3 vertebrea and is in the hospital. please keep in prayer
Sandy Ducan
Just found out she has covid please pray for quick healing
Becci Odel
has a broken ankle
Prayers for those of us who are traveling
Prayers for those who are dealing with Breast cancer
Small Groups & current studies
Doug and Donna Barton
The Gospel of MARK
Fellowship Hall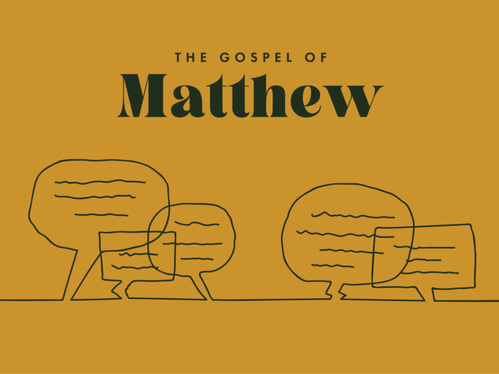 Mike McDivitt
The Gospel of MATTHEW
Room 1
8:30 AM
Adult Bible Study Lead by- Galen Clark- room #1
10:30 AM
Gospel of Matthew - Mike McDivitt - room #1
THE Study of Mark- Doug Barton - Fellowship Hall
Worship Bulletin & Sunday Morning Schedule
WATCH our Live Worship on any of these three platforms
8:30AM: Adult Bible Study Galen Clark ROOM 1
9:30AM: Nursery Care - Worship Service
10:30AM: Mt. Olive Kids K-5 Godly Play Room 6 - Nursery Care - Mt. Olive Youth the Attic - Adult Bible Study Mike McDevitt Room 1 - The Gospel of Mark Pastor Doug Barton Fellowship Hall
4 - 6 PM Meals and More: First three Sundays of the Month No Meals and More the month of December
ORDER OF WORSHIP
Worship by Our Presence

Gathering and Fellowship
Worship by Our Prayers and Service
Power in the Blood
Great Things
Breathe


Prayers of the People
The Lord's Prayer
Worship by Our Gifts
Offering
Installation of board members
Worship by Our Witness
Message: Unity: What Binds US
John 17
Song of Sending
Here I Am Lord
Benediction
Live Worship & media library